Class charts
Class Charts
To enable us to celebrate and recognise student success every day and to improve our home-school communication we have invested in an app called Class Charts, which you are being asked to download today. We are really excited about the launch of this app, because it will allow us to share information about your child during the school day. The app is how you will find out if your child has to attend Study Support sessions to catch up on missed homework.
How do I login?
Each parent has a unique access code.
Go to this website and download the app (Android or iOS). You can use the website version, however we recommend using the parent app.
https://www.classcharts.com/parent/login
Press "I don't have an account yet" and fill in the form. You will need to enter your email address and the unique access code above. If you have more than one child in the school, you can enter additional codes after creating one account.
What will I see on the app?
| | |
| --- | --- |
| Positives | Negatives |
| Ambition points for working really hard in lessons | SLR Referral if a student is sent to the SLR by their teacher for disrupting learning |
| Collaboration points for working well with each other | Uniform Incomplete if a student is not wearing their uniform correctly |
| Extra Curricular points for attending an after school club or Champion's Hour | Study Support if a student has not completed their homework, so is required to stay after school |
| Homework Competed points for completing a piece of homework | Late to School if a student has arrived late to school |
I'd like to draw your attention to some key features of the app. Once you have logged into the app, you will see this page. This shows whether your child has to attend Study Support or has an SLR after school detention that day. This is updated throughout the day. Once you have clicked on your child's name, use the menu system at the top of the page.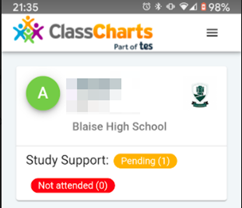 The Behaviour tab shows all positive (green) and negative (red) points. If you scroll down the page, you can see a detailed activity log.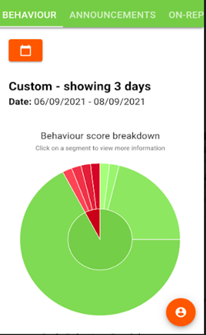 Other useful tabs include your child's timetable and announcements which will store our weekly Head's newsletter or letters home.