We The Curious Y7 Trip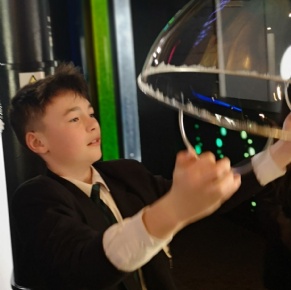 In January the Year 7 students at Blaise High School had the opportunity to visit the We The Curious science centre in Bristol. As part of the day students took part in a workshop titled 'Innoventions' where they investigated different applications of gears, pulleys, cams and levers and used their new found skills to create catapults to feed foam balls to a pen of Furbies.
Students also experienced a 3D planetarium show based around stargazing in winter and learned about the history of different star constellations as well as how stars are formed and how they die.
Students also got time to explore the different exhibits in the museum, practising their animation skills, experiencing the wonders of bubbles and the different stages of a foetus from conception to birth.
A great time was had by both students and staff alike and everyone returned having learned something new about the wonders of science.